ONE WORLD NEWS UPDATES: INDIEWIRE – With 5 million views in 3 days, LiveSciFi is a runaway hit!
Testimonial from one of our sponsors:
"We recently provided digital material (Poptent video), product and funding for One World's first live show (at the Sallie House in Kansas over Friday the 13th weekend) and will work on a couple of their upcoming episodes (they'll be airing monthly). Their first episode saw over 5 million viewers over a 3-day timespan and was particularly well-received among teens (male and female) and a slightly older, female audience. You can read a bit more about it here. The One World team are great guys, and always eager to leverage partnerships as thoroughly and authentically as possible."
Misty Otto
Public Relations Director
Williamson-Dickie Mfg. Co.
~Thanks Misty! ~ ed.
Sneak Preview of Ouija Horror Film Shot Entirely on Super 8mm Draws Star Support From Ewan McGregor and Freaks 'em Out in Santa Monica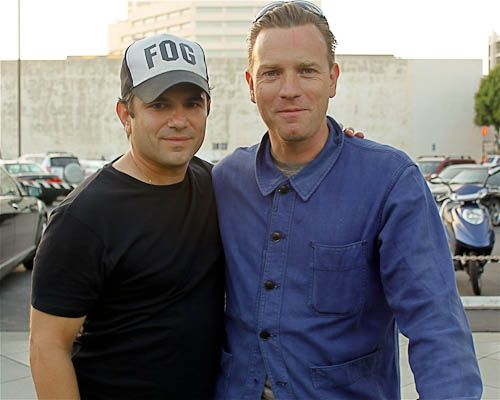 We've finished our first narrative film, I AM ZOZO, a Ouija movie about a real Ouija board spirit called ZoZo.
From Seattle Office of Film + Music Newsletter: Award-winning filmmakers Scott Di Lalla and Zack Coffman are wrapping psychological horror feature I AM ZoZo this month. I Am ZoZo is based on events surrounding true Ouija board experiences gone wrong and the consistent involvement of an entity known widely on the Internet as ZoZo. Shot entirely on San Juan Island and in Seattle with local talent and crew, I Am ZoZo is the first feature film to be shot exclusively with Kodak's new Vision 3 200T Super8mm film stock. Using two vintage Canon 1014 xls Super 8mm cameras crystal-synced for sound, Di Lalla and Coffman hope to prove that their innovative production model will allow other indie filmmakers a chance to enjoy the challenge and excitement of shooting on film. Production notes, videos, and stills at www.iamzozomovie.com.
Past press releases from OWS:
• Indie Filmmakers Keep Motoring Along With Wild New Film About Biker Movie Tour Through Europe
• Facebook for Bikers? ChoppertownNation.com Launches with a Roar
• Dickies Sponsors American Biker Movie Series of Events Across Europe
• Sneak Preview Screening of New Motorcycle Documentary Brittown Causes Near Riot in Santa Monica
• New Book of Quotes Sets Straight the Founding Fathers' Positions on Religion, War & Peace, Liberty, Taxes & Debt, Honesty & Responsibility
• New Teaser Video for Brittown: a British Motorcycle Documentary Film Jumps to the Top of YouTube
• Choppertown: From The Vault Revs Up for November DVD Release
• Choppertown: the Sinners Original Motion Picture Soundtrack hits iTunes